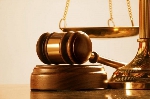 It comes after Minority Members of the House rescinded their earlier position to boycott the vetting over a date impasse.
Meanwhile, the Executive Director for the Alliance for Social Equity and Public Accountability (ASEPA), Mensah Thompson has petitioned parliament to put the process on hold to enable the nominee to satisfy the asset declaration law.
"The basis of my petition is that I have filed a complaint against the nominee with the Commission of Human Rights and Administrative Justice (CHRAJ) under article 286 of the 1992 constitution for non-disclosure of assets and liabilities. I have attached to this petition my letter to CHRAJ and the acknowledgement of receipt for your attention."The approval has been a Justice of the Court of Appeal since 2008 and was required under the constitution of Ghana which is the highest law of the land, to have declared his assets and liabilities.
"Once CHRAJ has told us that it is commencing an enquiry into this allegation, then we believe that Parliament should hold on to the vetting of Justice Anin Yeboah so that CHRAJ can make a determination of the matter and then they can continue with the vetting. Parliament vetting Justice Anin Yeboah and subsequently approving could prove to be prejudicial to the processes going on at CHRAJ," Mr.Thompson said in his petition.
Who is Justice Anin Yeboah?
Justice Anin Yeboah is currently the fourth longest-serving Justice of the Supreme Court.
A graduate of the Ghana School of Law in 1981, he was appointed to the Supreme Court by President John Agyekum Kufuor in June 2008.
Prior to that, he had served as a Justice of the High Court from 2002 to 2003 and a Justice of the Court of Appeal from 2003 to 2008.
Apart from being a Supreme Court Justice, Justice Anin Yeboah is also a part-time lecturer in Civil Procedure and the Ghana Legal System at the Ghana School of Law.
Justice Anin Yeboah's name is also associated with football. In May 2017, he was appointed the Chairman of the Disciplinary Committee of the Federation of
International Football Associations (FIFA).
He also served as the Chairman of the Appeal's Committee of the Ghana Football Association from 2004 to 2008.
Source: Ghana/Starrfm.com.gh